Learning Online Orientation
Learning Online Orientation
Welcome to the Orientation Materials for the online courses associated with the Department of Statistics!
If this is the first time that you are taking an online course, then we would strongly urge you to work through the pages that follow here. We work hard to ensure that your learning experience is as positive for you as possible and we hope that the information and contacts that you will be introduced to in this orientation will help to point you in this direction.
Objectives
As a result of working through this Orientation module participants should:
---
Be able to describe the general nature of how the online courses are designed and the online course environment.
Understand the role of students in an online course and what is expected from them.
Be able to list a the range of technologies that are used in association with our online courses and be able to assess whether the computer set up that they will be using is able to handle how materials are presented and interaction with others.
Be able to list the various statistical software packages that are used as part of the online courses be able to describe how to obtain a copy of this software so that it can be installed before classes begin.
Be able to list a range of resources and services that are available to Penn State students.
Know who to contact when you need additional information about the program or about learning online at Penn State.
Know who to contact when you need technical assistance.
Begin by reading through the pages that follow in this module. Follow the links that are presented so that you can check the various technology requirements on your own computer and make note of the different services that are described.
There will be a short quiz at the conclusion of these materials.
If you have any questions as you go through this Orientation, please feel free to contact John Haubrick, instructional designer & teaching faculty, Department of Statistics.
---
O.1 How do the online courses work?
O.1 How do the online courses work?
The activities in the online courses offered by the Department of Statistics are found in two different but connected locations. The course administrative functions such as announcements, gradebook, homework assignments, quizzes and exams are all accessed from within Canvas, Penn State's learning management system. Here is a link to a Canvas Overview Video for Students if you want a sneak peek how Canvas works. Other useful documentation for using canvas can be found on the Canvas Student Guides. Lesson materials such as lecture notes, examples, animations, movie or audio clips, or other interactive pieces that are needed to help drive an important concept home are found on the companion course materials website.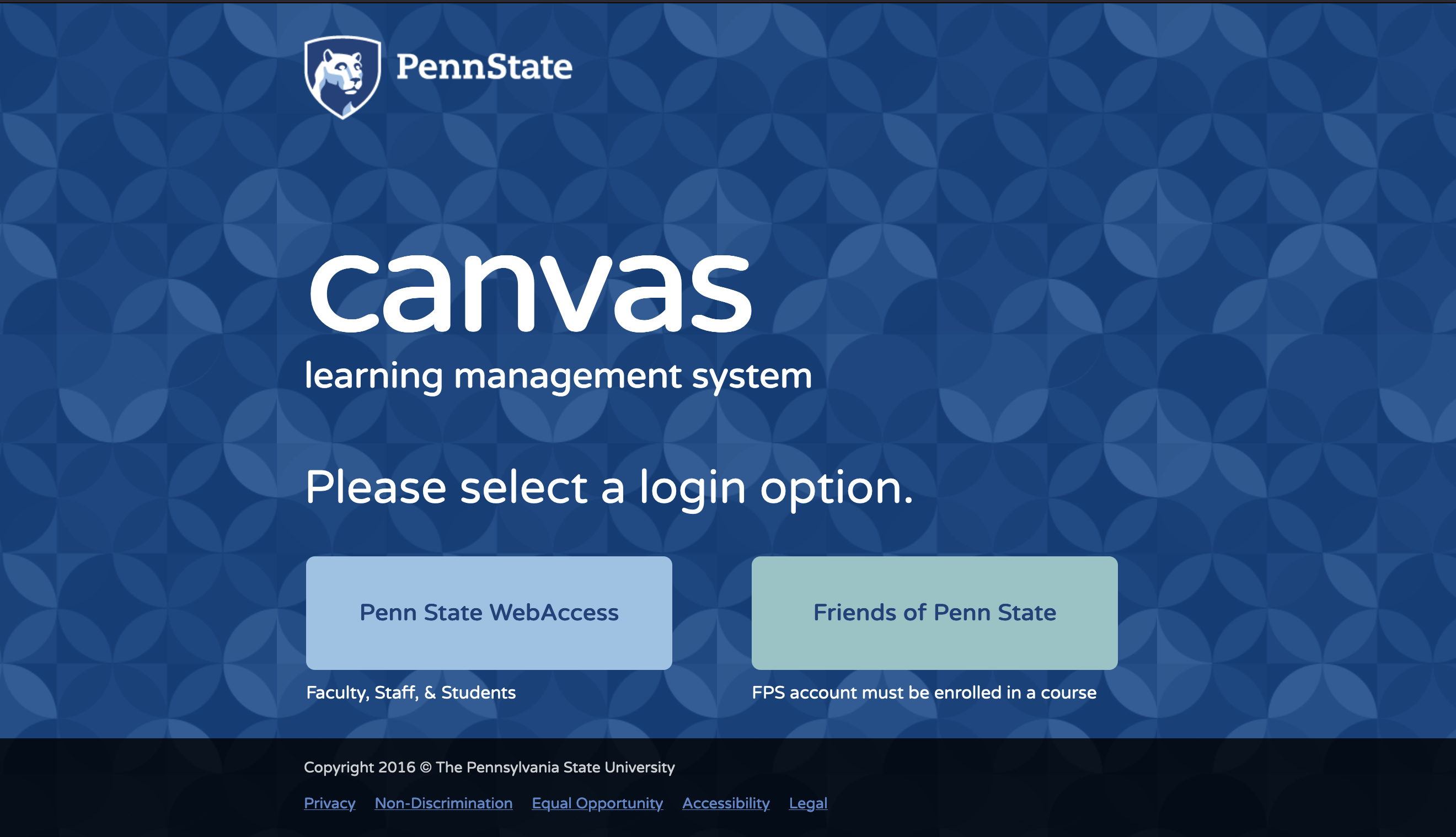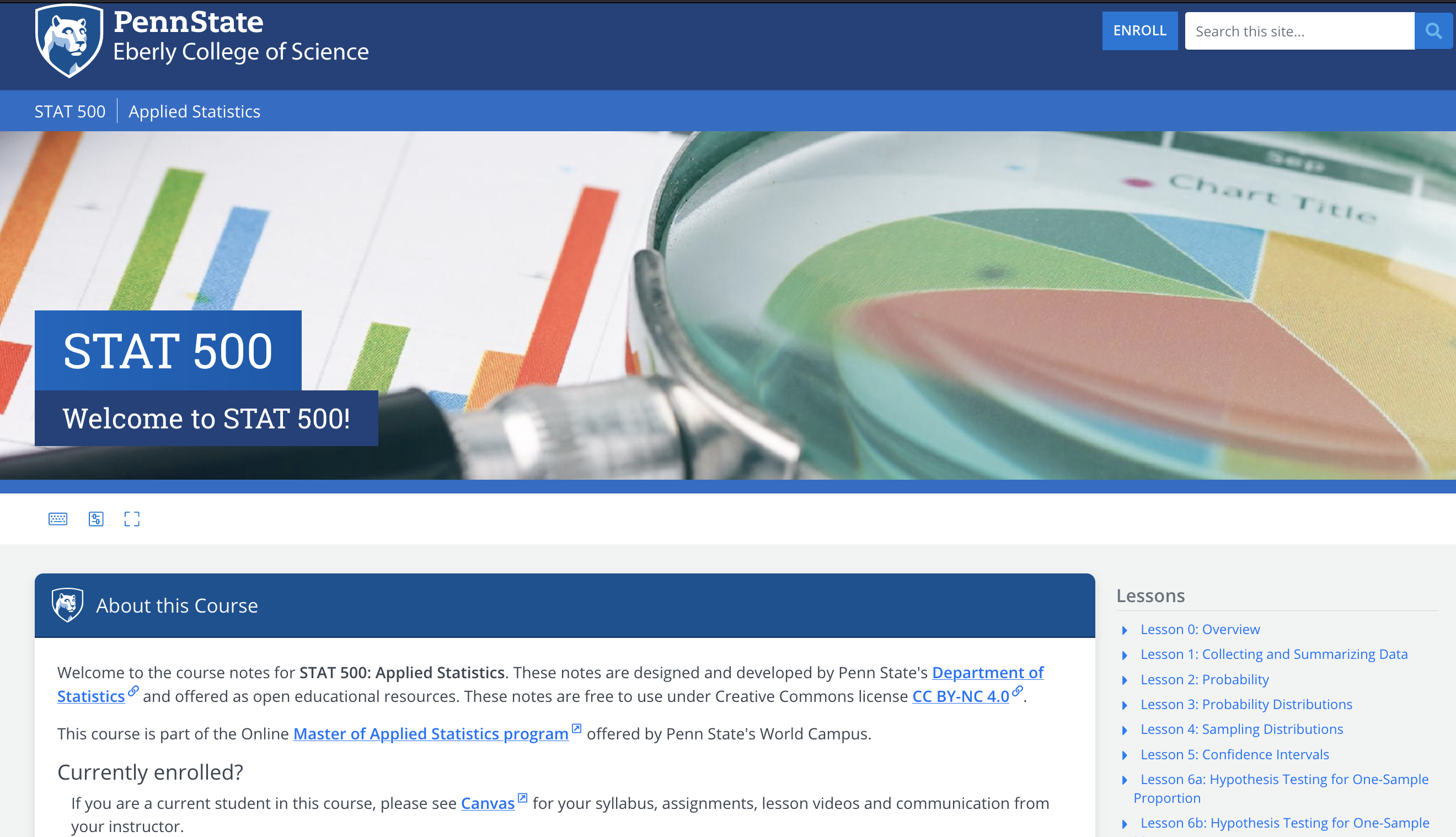 Each course companion website intends to provide students with information, examples, images, formulas or code that supplements what is presented in the required readings or in the instructor's Canvas course space. Wherever possible we try to make these interactive when this helps to aid understanding. In general, our notes strive to provide a rich narrative, liberally enhanced with graphics and augmented with video where appropriate. Where other online programs may base their online materials on recorded lectures, our approach intentionally promotes the use of short video segments that are embedded with our online materials for the purpose of presenting specific concepts, sharing worked examples or in response to student questions. Our online material websites also include a search tool, a printer friendly option and all formulas and equations are rendered using MathJax (more on this later!).
FAQs
Click on the frequently asked questions below to view.
An important aspect that all of the online courses include is interaction - interaction with the instructor as well as interaction among students. The course's email, discussion forums, and live chat are tools typically used for these interactions, however, many instructors take advantage of other video or interactive whiteboard types of communication tools outside of the course management system where they can work with students as a group or individually.
Please Note: Your PSU email is the universities primary mode of contact for you. Make sure that you are reading your PSU email!
In Canvas you can find out who your classmates are by selecting the 'People' link on the left. Each course typically starts off with an introductory activity. Take advantage of this to introduce yourself to your instructor and your fellow classmates. Later on, in this orientation, you can follow the tips update your profile in Canvas by clicking on you Account > Profile and adding information to this page.
Want to know more about your instructor? Start with the Online Instructors page or send them an email.
The course schedule is published along with the syllabus at the beginning of the semester by the course instructor. Depending on the course, the flexibility of the course schedule varies, but in general, our courses are pretty well packed with readings, homework, quizzes, exams, etc. We work hard to maintain the policy of Penn State University and the Department of Statistics that all of our online courses are equivalent to what would be taught in residence course section on campus and we take this curriculum integrity issue seriously.
Our online courses all follow the same academic calendar as the rest of the university, with perhaps a few changes because it is online. And, all of our courses are cohort based. This means that all the students start at the same time and work through the lessons at the same time, the instructor opening and introducing perhaps a couple of lessons at a time. Our courses are not open-enrollment oriented where everyone is on their own studying at their own pace. This would make discussions problematic and the role of the instructor nearly impossible trying to direct your attention and answer questions from all directions! Also, given the wide array of time zones that our students represent, nearly all of the activities in our courses are asynchronous. Instructors may establish times for 'office hours' that are held in an online meeting room, (recorded for those that can not attend) or an instructor may want students to present work to the class, but in general most of the work and interaction takes place individually through email, discussion forums and other methods that do not require everyone to login at a specified time.
The pace and approach to courses are very similar to how things are taught face-to-face. In fact, some of our online instructors are teaching the same course on campus. However, this being said, and because this is online and we realize that our online students are typically returning adult professionals with full-time work and family responsibilities, our instructors try their best to make accommodations. For instance, we've come to realize that for many the majority of the discretionary time you have to apply to course work has been on weekends. Therefore, a Friday deadline for homework is problematic for many. We found that shifting due dates to Sunday night or Monday works better for most. Again, when something comes up, travel, medical, or other issues, that might impact your ability to meet deadlines, whenever possible reach out to your instructor ahead of time.
This is a good question, and of course, you might expect the answer, "It depends". Well, it does depend. It depends on what background understanding you bring to the course. And it depends on the course. Some may involve a lot more work for you, where others the concepts may involve much more difficult concepts or methods.
To help you answer this question, take a look at results displayed in the pie chart (right). Every semester we administer a Mid-Semester Survey in each of our courses as a means of monitoring the perceptions of our students and providing an opportunity for feedback. These are the results combined across all of our MAS courses during the Summer 2018 semester asking how much time students spend on their course. The Graduate School guidelines at Penn State states that a student should be expected to spend 3 hours outside of class for every course credit. So, for a 3 credit course, one would expect to spend 9 hours on reading, homework, study, etc. Taking this into account, the pie chart shows us that our students are reporting that we pretty much meet this standard. For instance, 40% of students reported spending 4-6 hours on a course, and 39% of students reported spending 7-9 hours per week on a course. In the long run, we work to ensure that our courses are rigorous without being impossible and that what you learn is of lasting value.
Each course includes an assessment plan which is published as part of the course syllabus. Deadlines for each of these assignments are given in the course schedule. By the way, all of the course due date times are US Eastern Time (the Canvas timestamp) - not for each of your time zones. The deadline time is set so the grading and feedback process can begin. Keep up with the course schedule. If you get behind it is a real chore to catch up! This would be true in a face-to-face class as well.
All assessments are submitted in Canvas. Lesson quizzes are mostly multiple choice but could include T/F or essay type questions as well. Sometimes it might be necessary to write out an assignment by hand. In these cases, students will need access to a scanner which would produce a .pdf of your work which you could then submit this to your Assignment or Quiz in Canvas.
Whereas homework and labs are open until they are due, mid-terms and exams are available to be taken by students during the pre-established time frame. For instance, if a 90 minute mid-term is open beginning Thursday to Sunday, then students will need to find a 90-minute time slot somewhere in this time frame that they can complete this exam. Additionally, some courses have exams that are required to be proctored. For more information about proctored exams read What is a Proctored Exam?
Because these courses are online we will be using various technology tools. We will tackle this in the next section...
---
O.2 What technology is used?
O.2 What technology is used?
In our online statistics courses, you will use a variety of technologies to facilitate the learning process.
The following sections highlight just a few of these technologies.Visit the Technology Tutorials on this site for more information on the technology used in our courses.
---
Technical Requirements for Online Courses
Technical Requirements for Online Courses
Recommended Technical Requirements for "Frustration Free" Computing
View our World Campus Technical Requirements page to see the minimum technical requirements for our courses.
To review minimum technical requirements for individual statistical software packages, please visit the technical support pages of the individual vendors. See the Statistical Software page on the Statistics Department website.
Students are strongly encouraged to download, install, and test computer and browser requirements prior to the beginning of classes.
Courses with Proctored Exams
For courses using Honorlock you must meet the following technical requirements.
Honorlock System Requirements
Desktop computer or laptop (tablets, Chromebook and cell phones do not meet our requirements)

Windows 10 or 11
MacOSX 10.14 and higher
ChromeOS 93 and higher

Webcam and microphone (built-in or external).

Currently, Honorlock is incompatible with:

iPads
Walmart Branded Camera (Onn)

Connection to network with sufficient internet speed: at least 1.5 Mbps download speed and 750 Sbps upload. Hot spots are not recommended.
Chrome Browser version 93 or higher with pop-up blocker disabled
Installed Honorlock Chrome Extension

"Once you install the extension, you get the protection and ease of simply logging into your school's learning management system and getting started."
"We'll walk you through a quick 60-second pre-test checklist to make sure you're ready to go."
Reaching Honorlock 24/7/365 Support
Phone: 1 (844) 243-2500
Email: support@honorlock.com
Live Chat: Click on the live chat link located at the bottom right corner of your Canvas exam page
Honorlock support: Click on the link at the top right-hand corner of your Canvas exam page
Reference: July 18, 2022, Honorlock Help Center "Minimum System Requirements"
---
Learning Management System: Canvas
Learning Management System: Canvas
The course administrative functions such as announcements, gradebook, homework assignments, quizzes and exams are all accessed from within Canvas, Penn State's learning management system.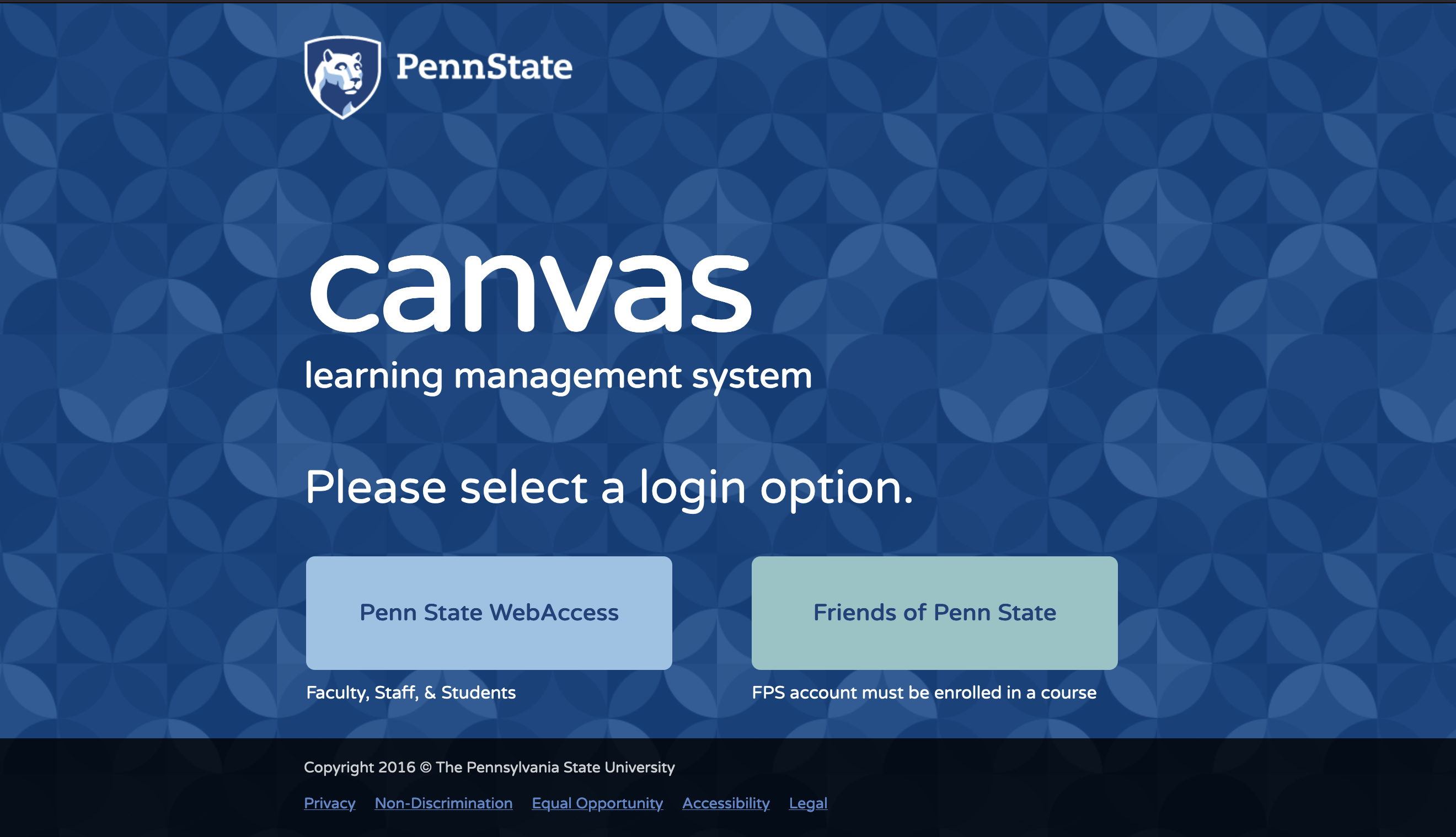 There are numerous resources we recommend you review if this is your first time using Canvas.
Canvas Resources
---
Take a Screen Capture
Take a Screen Capture
In the online environment, being able to capture graphs, images and equations is an important skills for assignments, discussion forums and even troubleshooting issue with your instructor to the help desk.
Most new operating systems come equipped with some sore of screen capture tool. Here are the basic ones.
Windows Windows
Using Keyboard
PrtScn: Another option is to use the print screen ("PrtScn") function which will copy your entire screen, then paste into Word and crop down to only the necessary part of the screen.
SHIFT + S: (Windows 10 only)
Using built-in tool
Snipping Tool: Computers with Windows Vista and later will have a snipping tool. This will allow you select a portion of your screen. Then, you can copy it and paste it.
Using Keyboard
⌘ + shift + 4 : This will allow you to select a portion of your screen. By default, this saves your screenshot as a graphic
Using Built-in tool
Grab: This tool will allow you to capture, the entire screen or just a selection.
Once you have your image you can then upload it to Canvas or add it to your document.
Uploading an image to a Canvas Forum or Quiz
Working with Images in Documents
Cropping a picture in Word
There are times where you have to crop your screenshot to only show certain parts of the image in your document.
---
O.3 What is a proctored exam?
O.3 What is a proctored exam?
Proctored Exams
Some of our online STAT courses have exams that are proctored. Why a proctor? The proctor's role is to monitor the exam environment to ensure the academic integrity of the exam process on behalf of Penn State and the Department of Statistics.
Proctoring Process using Honorlock
Honorlock will proctor your exams this semester. Honorlock is an online proctoring service that allows you to take your exam from the comfort of your home. You DO NOT need to create an account or schedule an appointment in advance. Honorlock is available 24/7, and all that is required is a computer, a working webcam/microphone, your ID, and a stable internet connection.
Honorlock Minimum System Requirements
You will need:
Laptop or desktop (tablets and cell phones are not compatible)
Windows 10, MacOS 10.13 or higher
Chrome OS93 or higher
Google Chrome latest version
Internet Speed 1.5 Mbps. download, 750 Kbps upload
Installed the Honorlock Chrome Extension
A valid Photo ID (PSU ID, Drivers License or other government issued photo or passport)

You may not use military IDs or credit cards.
Taking Your Exam with Honorlock
When you are ready to complete your assessment:
Log into Canvas, go to your course, and click on your exam.
Clicking "Launch Proctoring" will begin the Honorlock authentication process, where you will take a picture of yourself, show your ID, and complete a scan of your room.
Honorlock will be recording your exam session through your webcam, microphone, and recording your screen. Honorlock also has an integrity algorithm that can detect search-engine use, so please do not attempt to search for answers, even if it's on a secondary device.
Honorlock Support
Honorlock support is available 24/7/365. If you encounter any issues, you may contact them through live chat on the support page or within the exam itself.
Guides to Review:
---
O.4 How can I be successful?
O.4 How can I be successful?
OK, so you now have the technology all in place, your browser and plug-ins working and a reliably fast internet connection. This is good but it is just a start! There is more to learning online than just the technologies!
We want you get to most out of your online learning experience. So, we have put together a list of 'Tips & Suggestions' that have been gathered from research and our own experience working with students. We want you to listen to interviews with students who share their own advice based on their personal experiences and what they have to say about how they organize their time so that they can complete all of the necessary tasks and activities for a course.
Read through these suggestions, watch the video and then make a personal plan for an approach that will help you make the most of your online learning experience!
Tips & Suggestions
Pay close attention to the due dates of the assignments and check the Syllabus regularly in case changes have been made by the instructor!
Plan ahead and plan well. Do not put off quizzes or assignments till the last minute! Courses in statistics are challenging and these courses are no different. If you begin to fall behind it will be very difficult to catch up!!
Check your e-mail regularly, but be patient while waiting for responses.
Communicate with your instructor and/or classmates by e-mail, message boards, chat rooms, Instant Messenger, or phone. Subscribe to discussion forums so that you get notified if there is a post!
Use courtesy in online communication and deal with conflict with respect.
Evaluate your own progress by the course objectives and assignments, and regulate your own study pace based on this evaluation. Talk to your instructor if you encounter a problem.
Participation is important to your learning experience in an online learning environment, so be confident in making contributions. Don't be afraid of making mistakes!
Identify a way of taking notes you would prefer: use Word, online journal/Web logging, note-taking software, bookmarking the Web sites important to you, or any method that works well for you.
Be aware of the resources for HELP available: your instructor, the Outreach HelpDesk, Outreach Student Services, Canvas Help or a librarian.
Always check the file size when you try to upload a file to share. The bigger the file size, the more difficult it may be to upload and download.
In addition to becoming familiar with the online learning environment, pay attention to the physical learning environment around you - try to arrange everything ergonomically in your learning space.
Be sure to always display appropriate "Netiquette". Netiquette covers not only rules to maintain civility in discussions, but also special guidelines unique to the electronic nature of forum messages. View Penn State's Earth and Mineral Sciences faculty development resource on 'Netiquette'.
Ask GOOD Questions!
Communicating back and forth with your instructor and classmates using email or discussion boards can be frustrating because of the back and forth nature of trying to find out specifically what you need to know. For this reason it is important to ask questions that have enough information so to ensure that you will efficently get a helpful answer in return.
Be Specific! For instance, if you ask, "I just don't get problem #4, can anyone help me?" - this is pretty general and I am sure potential respondents are saying, "Where do I start?!" Instead, add more specific details to help your helpers help you more efficiently. If the question posted was, "I am gettting a different value for the standard error and here are values that I am using. Can anyone see what I am doing wrong?"
Capture Your Screen! They say a picture is worth a thousand words - so you might as well take advantage of this! Rather than explain, show what you see when you can. You can then either embed this in your message or add it as an attachment. This can save you are your instructor lots of time!
---
O.5 What resources are available?
O.5 What resources are available?
Penn State provides a host of resources to every Penn State student.  Here are some pages that we think might be of particular interest to our online students.
Penn State Information and Resources
The pages that follow provide specific information that you can skim through quickly.  Perhaps something will catch your eye that you might want to investigate further. 
---
O.6 Summary
O.6 Summary
The Department of Statistics is proud to be able to offer these opportunities to learn online to individuals who otherwise might not be able to take advantage of taking a course or getting an advanced degree. We hope that the approach that we take will help you build your understandings and experience base in positive ways.
Having worked through this Orientation module you should now have a good idea as to how our online courses are delivered and the role that students play throughout the semester. Being all online you should understand that there are a number of technologies and internet resources that will be central to your success with the program. As a result, you should see the need to check the computer set up so that you have all hardware, software and internet connection in place before any classes start. If you have any questions about any of this technical information, please do not hesitate to reach out to the contacts listed within the orientation.
Also, you should know that once you get your PSU Access Account userid, there are a host of resources available to all Penn State students, this includes through World Campus. Take advantage of these!
And, finally, if you have any questions about our courses, the program or any questions related to your program of study or the technology, please do not hesitate to contact some one here at Penn State, in the Department of Statistics, or at one of the various Help Desks online.
Quick Tutorials
You will notice a 'Quick Tutorials' section of the website that follows this Orientation. These quick tutorials focus on some of the specific applications that are either used regularly in our online courses or tools or methods that we think will come in handy. Check them out! They are organized in terms of:
---