O.2 What technology is used?
O.2 What technology is used?
In our online statistics courses, you will use a variety of technologies to facilitate the learning process.
The following sections highlight just a few of these technologies. Visit the Technology Tutorials on this site for more information on the technology used in our courses.
---
Technical Requirements for Online Courses
Technical Requirements for Online Courses
Recommended Technical Requirements for "Frustration Free" Computing
View our World Campus Technical Requirements page to see the minimum technical requirements for our courses.
To review minimum technical requirements for individual statistical software packages, please visit the technical support pages of the individual vendors. See the Statistical Software page on the Statistics Department website.
Students are strongly encouraged to download, install, and test computer and browser requirements prior to the beginning of classes.
Courses with Proctored Exams
For courses using Honorlock you must meet the following technical requirements.
Honorlock System Requirements
Desktop computer or laptop (tablets, Chromebook and cell phones do not meet our requirements)

Windows 10 or 11
MacOSX 10.14 and higher
ChromeOS 93 and higher

Webcam and microphone (built-in or external).

Currently, Honorlock is incompatible with:

iPads
Walmart Branded Camera (Onn)

Connection to network with sufficient internet speed: at least 1.5 Mbps download speed and 750 Sbps upload. Hot spots are not recommended.
Chrome Browser version 93 or higher with pop-up blocker disabled
Installed Honorlock Chrome Extension

"Once you install the extension, you get the protection and ease of simply logging into your school's learning management system and getting started."
"We'll walk you through a quick 60-second pre-test checklist to make sure you're ready to go."
Reaching Honorlock 24/7/365 Support
Phone: 1 (844) 243-2500
Email: support@honorlock.com
Live Chat: Click on the live chat link located at the bottom right corner of your Canvas exam page
Honorlock support: Click on the link at the top right-hand corner of your Canvas exam page
Reference: July 18, 2022, Honorlock Help Center "Minimum System Requirements"
---
Learning Management System: Canvas
Learning Management System: Canvas
The course administrative functions such as announcements, gradebook, homework assignments, quizzes, and exams are all accessed from within Canvas, Penn State's learning management system.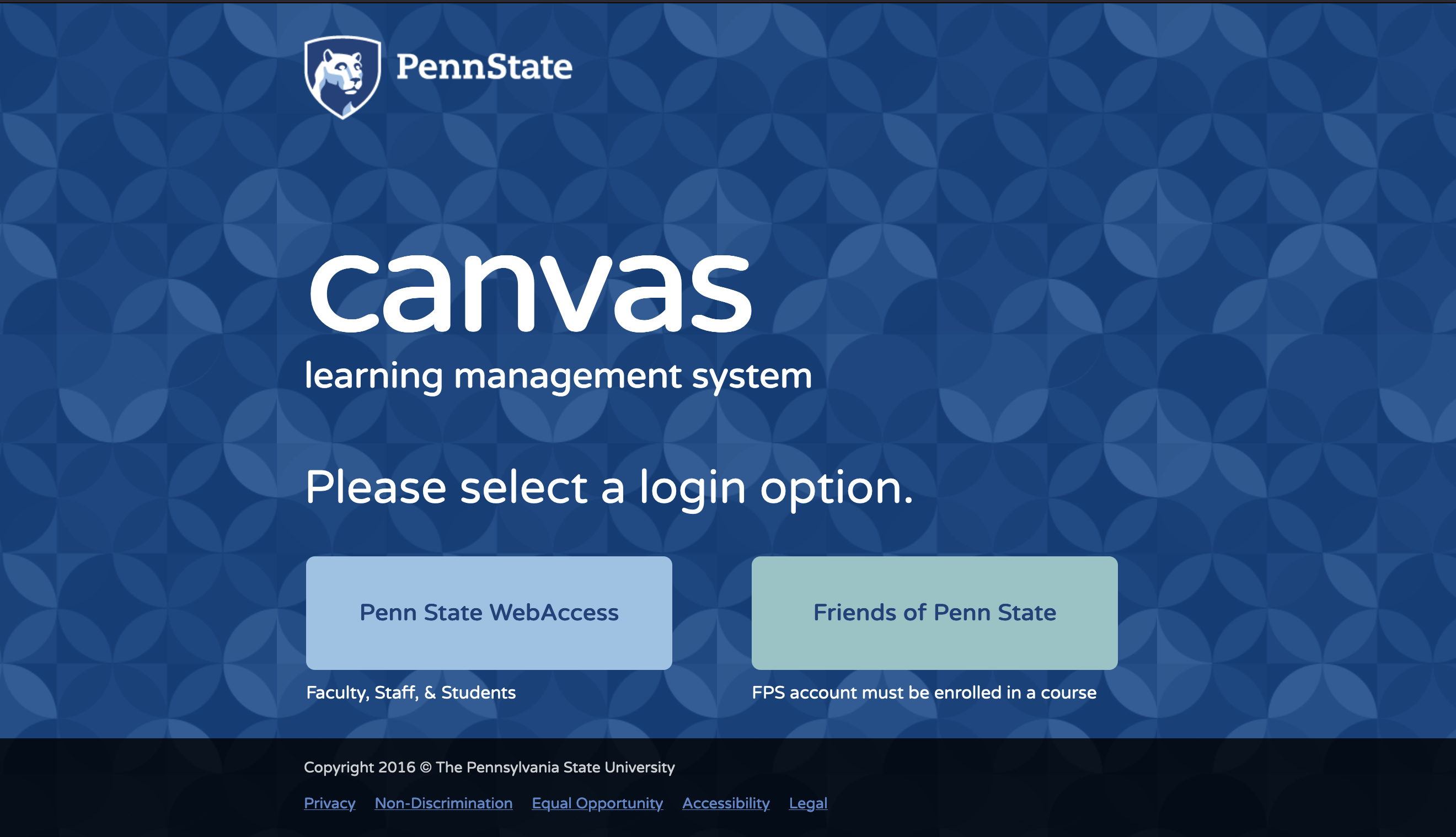 There are numerous resources we recommend you review if this is your first time using Canvas.
Canvas Resources
---
Take a Screen Capture
Take a Screen Capture
In the online environment, being able to capture graphs, images and equations is an important skills for assignments, discussion forums and even troubleshooting issue with your instructor to the help desk.
Most new operating systems come equipped with some sore of screen capture tool. Here are the basic ones.
Windows Windows
Using Keyboard
PrtScn: Another option is to use the print screen ("PrtScn") function which will copy your entire screen, then paste it into Word and crop down to only the necessary part of the screen.
SHIFT + S: (Windows 10 only)
Using built-in tool
Snipping Tool: Computers with Windows Vista and later will have a snipping tool. This will allow you to select a portion of your screen. Then, you can copy it and paste it.
Using Keyboard
⌘ + shift + 4: This will allow you to select a portion of your screen. By default, this saves your screenshot as a graphic
Using Built-in tool
Grab: This tool will allow you to capture, the entire screen or just a selection.
Once you have your image you can then upload it to Canvas or add it to your document.
Uploading an image to a Canvas Forum or Quiz
Working with Images in Documents
Cropping a Picture in Word
There are times when you have to crop your screenshot to only show certain parts of the image in your document.
---