WebApps
WebApps is a service provided by Penn State that allows students to access software remotely via the Web. This service is great if you need to use a software application and don't have access to your personal copy on your computer. You can use these applications through the web on your computer, tablet, or smartphone!
How Do I Access These Applications?
Accessing these applications is easy! Simply open a web browser and go to the WebApps web site.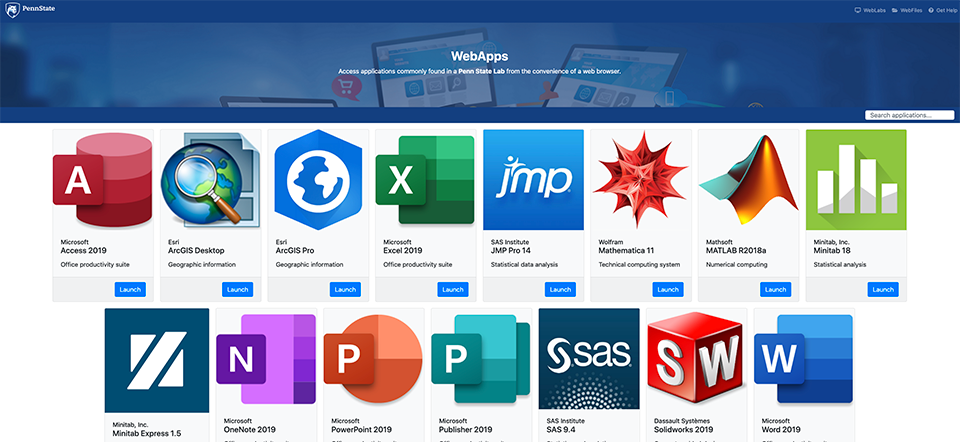 Once you are at the WebApps site:
Click on the application you would like to use.
Authenticate using your Penn State Access Account userid and password.

The application will open in your browser window.
NOTE: This is NOT the same as using an application installed on your local computer!
For many reasons it is always better to have access to your own copy of SAS, SPSS, or Minitab on your local computer. Students committed to Statistical Consulting will want to install SAS and/or Minitab locally whenever possible. For students in classes where SAS or Minitab is used only infrequently this may be a viable alternative. Check with your course instructor to be certain.
For more information on using PASS visit the PSU IT Knowledge Base PASS article.
---
How is Using WebApps Different Than Having a Local Copy?
WebApps Does NOT Connect to Your Desktop! - only PASS space and WebFiles
WebApps does not 'see' your desktop but it will connect with your PASS space, so you MUST be familiar with uploading and managing files within your PASS space to open program files to use this version of the application successfully!
NOTE: The icon to access the clipboard and to upload and download files from PASS (shown right) has been updated can now be dragged to any part of the screen!
You Can NOT Copy and Paste Directly
You can't copy and past directly to or from the application being used in your web browser to a Word document you have open locally, or from your local computer to the application. You MUST use alternative methods to copy output, log notes, graphs and tables into other documents or paste any data or commands into these applications. Take steps to learn how to use these alternative methods! Look for the icon (show right) that provides access to these methods.
The follow video will step you through how to upload data to the Minitab WebApp using the 'toolbox' icon.
Video: Uploading Data to the PSU Minitab WebApp
---
General Notes
Because you are accessing these applications remotely through your web browser, it does not make a difference which operating system you use. For instance, you can access Minitab or SAS using a Mac computer.
Please report all problems or bugs to ITServiceDesk.
A friendly piece of advice: do not leave homework or project assignments to the last minute as this does not assure access!